Search Engine Optimisation in
Wellingborough
Did you just find us using the term "SEO Wellingborough"?
We provide search engine optimisation services to local companies and small and medium-sized enterprises in Wellingborough, wider Northamptonshire, as well as the rest of the United Kingdom.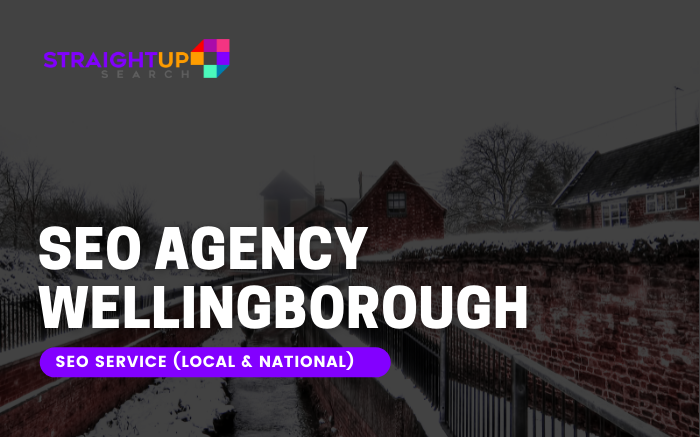 What's Straight Up Search Got To Do With Wellingborough?
Straight Up Search is a search engine optimisation (SEO) company with offices in Wellingborough, Northamptonshire, UK (it's actually our HQ, so to speak).
As SEO specialists, we use cutting-edge analytics and tools to do competitive search engine ranking audits for our clients. This is part of the process that informs our SEO strategy to increase organic traffic.
But, is there an opportunity for SEO in Wellingborough?
The seed keyword Wellingborough brings up 17,478 keyword suggestions representing a monthly volume of 341k
As I allude to in the video, yes. There's lots of local opportunities. I'll dive deeper at the end of this page to show you some more interesting findings like this. Geek out with me in the SEO world and feel free to reach out and ask questions.
If you are particularly interested in DIY SEO, then enquire about a one-off SEO audit to inform your in-house organic strategy for SEO Wellingborough.
What Services Do You Require?
We offer website audits, keyword research and training on search engine optimisation. We pride ourselves on our personal approach to web design, SEO services and internet marketing for companies in Wellingborough.
Our range of services includes:
Comprehensive manual SEO audits

Technical, on-page & off-page planning

Collaboration with your developers on implementation

Keyword Research

SEO focused content plans and post outlines

WordPress SEO implementation

Search performance monitoring

Training & Upskilling your internal marketing team
Content Writing for Businesses in Wellingborough
Straight Up Search is a leading SEO agency in Wellingborough that offers search engine optimisation, copywriting and training for businesses in the area. Our award-winning team of industry experts has helped many local companies in their marketing efforts.
SEO copywriting is one of the most important aspects for companies who want to increase their online presence, ranking and visibility. Content needs to be written with keywords in mind to help your website rank higher on search engine results pages (SERPs) when people are searching for products or services you offer.
In a nutshell, your website needs content that contains keywords but also tells your audience what you do and why they should use your services or buy your products. Without SEO copywriting, it is more difficult to gain traction in organic search results.
The Wellingborough Local Ranking SEO Project
As an experienced SEO company we already have a systemised process system in place enabling us to provide search results for our customers across the United Kingdom.
Maximise Your Exposure Within Wellingborough & Beyond
Marketing in Wellingborough is crucial to gaining commercially intent customers. We'll optimize your page so that your web page is displayed in a relevant site search engine. More people will find your company and see what your services offer. This is an excellent way to get a lot of people interested in your services.
Targeted visitors come to your website with the purpose of wanting to get more visitors. Our website optimization helps you increase sales conversions and decrease the cost of customer acquisition.
FAQ
Wellingborough SEO – 6 Quick Considerations
SEO, or search engine optimisation, is a marketing strategy that helps your business to get more exposure on the web. This is accomplished by having a highly visible presence on the primary search engines such as Google and Bing. While it may seem simple at face value, there are a few tips and tricks I'll run through here.
1. Google My Business
Google My Business (GMB) is a service that allows businesses in Wellingborough to expose their brand on the search engine results pages (SERPS).
It is also referred to in organic listings that feature Knowledge Panels and Google Maps. Google's algorithm updates, as well as the cost of local and smartphone traffic on Google Maps, has made it more difficult for local businesses to rank.
That said, local searches are crucial to getting ahead of your competitors and increasing your web traffic and increasing your website traffic.
Google My Business listing for Straight Up Search
2. Keyword Density
Keyword density varies from article to post to video description. But in the SEO arena, it's a little harder just repeating these keywords over and over. In fact, that's called keyword stuffing and you could get your site penalised.
The key takeaway here is DYOR (do your own research) or hire a SEO expert to advise you on what's working in terms of best practice SEO in 2022.
3. Link Building & Backlinks in Wellingborough
Part of our SEO techniques, Off-Page SEO and Backlinks refers to other websites linking to your site. If there are links on websites to your website it helps to enhance the visibility. It's also a positive signal (and ranking factor) to Google as it indicates natural brand activity.
You can achieve backlinks via a coherent SEO campaign for outreach. That said, when building links you're going to need a SEO professional that can guide you through – taking into account quality metrics of the external placement such as organic keywords, traffic, niche relevancy and domain rating (DR).
4. Optimal Search Engine Rankings for Wellingborough
That's an easy one – the optimal search rankings for Wellingborough SEO should be position #1 right? Well, that's the long-term aim but positions #1-3 account for 65%+ of all clicks so be mindful of that too.
In the short term, getting your top commercial intent keywords to page 1 of Google is realistic. Anyone who guarantees position is a cowboy and should be avoided – you cannot game Google, it's 2022 and it's smarter than ever.
Anyway, assuming your SEO campaign is local – Wellingborough SEO involves identifying the most relevant and useful keyword or phrase on a website that relates to Wellingborough. We know that SEO can help you improve your search engine rankings and subsequently, Search engine optimisation can increase the traffic to a website in Wellingborough.
5. SEO that hits your target audience
As SEO experts, we love to discuss how to target your ideal audience. This is a critical step in Wellingborough SEO and optimised web design. And it's all part of the planning process for online marketing. Whether you're selling a product or service, you should know who your target audience is.
6. SEO
for

Wellingborough & Your Reputation Management

Regarding reputation management, it's important not to neglect this aspect of organic optimisation. For example, if you have a number of negative reviews on Yell, TrustPilot, Google My Business or other platforms we've temporarily forgotten.
Wellingborough SEO Services – Wrap Up
SEO has a major impact on businesses across Northamptonshire in reaching their audience. Straight Up Search provides SEO services for Wellingborough for new start-ups all the way through to established businesses looking for a edge on their competitors.
So, if you want help with your SEO Wellingborough, get in touch today.
Let's have a chat